Your ideal new home, that lets you live beyond walls
MIDCITY Housing Lahore
MIDCITY Housing Lahore, is one of its kind, sustainable, mixed-used development project that is fully compliant with all the approving authorities. Developed on a Five-Minute Community concept that enables the residents to easily navigate without cars, enabling them with pedestrian and cycling infrastructure that connects the whole community to their immediate needs and amenities in just 5 minutes.
Lush green sanctuary in Lahore
Located in the South of Lahore, and connected to the entire city via Ring Road, MIDCITY's Green Spine Design offers a personal sanctuary to all our residents. With Parks and Urban Forest, spread along the project like a spine, this green spine design brings nature to your backyard. This makes MIDCITY a Clean Air Zone in the city. Equally accessible from the whole community, it is a perfect place to unwind after a long day and revitalize social connectivity through the communal lifestyle it provides.
Open and Public Spaces
MIDCITY has dedicated 65% of the land open for public use. MIDCITY promotes active mobility and social, communal lifestyle as primary necessities while designing a smart, green, friendly for all, and sustainable community.
Live Beyond Walls
MIDCITY understands and is fully addressing the concerns of apartment buyers. The planners behind the project believe that life should not be limited to the confines of your apartment. At MIDCITY's Apartments, you get the freedom to truly live beyond walls.
To provide an active, balanced, outdoor lifestyle to all its apartment residents, MIDCITY offers many world-class amenities and features with the sole objective to make lives of its residents complete, wholesome and fulfilling:
Park and Urban Forest
Pedestrian & Cycling Infrastructure
Community Club with Dining, Boarding, Archery and Horse Riding Club
Social Meetup Corners
Gym & Fitness Areas
Market, Bank, Pharmacy
Masjid & Library
School
Offices
Amphitheater & Entertainment Areas
Smart Community & Building Management System
Social, Communal and Friendly Neighbourhood
MIDCITY PEARL – Apartments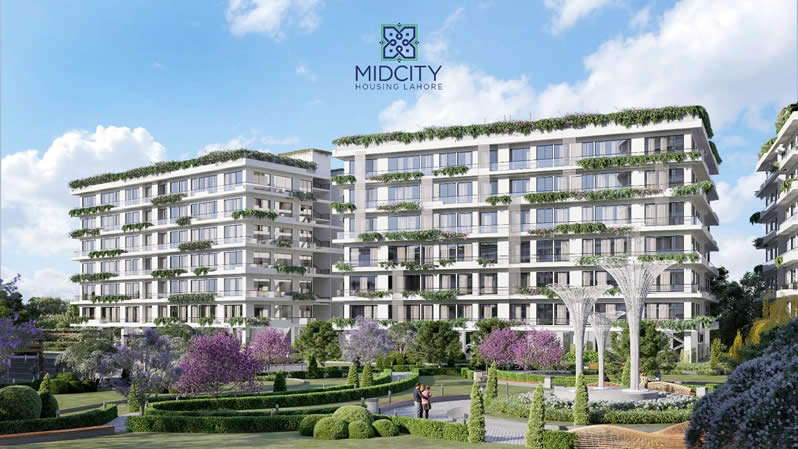 A convenient choice for anyone looking for a modern apartment in southern Lahore. Premium 02-03 bedroom units, looking over the scenic central park, MIDCITY PEARLS are thoughtfully planned and architecturally designed to match their vision of a community lifestyle in its purest sense – a place where people can come together, make new friends, forge new bonds, and experience nature.
The Grand Launch Event

MIDCITY's Launch Event was as unique as the community itself. The event was attended by celebrities, Influencers and notables from the community. Attendees even got to visit MIDCITY and the Apartments, digitally, via Virtual Tour of the society.
Bookings for MIDCITY Apartments & Homes are now open.
Website: www.midcityhousing.com
UAN: +92 (42) 111 002 739
WhatsApp: +92 304 111 0739