The Ram Gopal Varma directorial stars Amitabh Bachchan, Jackie Shroff, Manoj Bajpayee, Amit Sadh and others in the lead roles.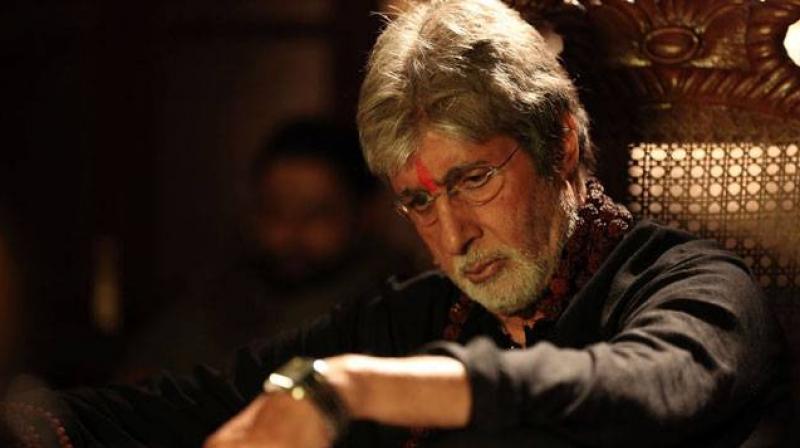 Rating:
Director: Ram Gopal Varma
Cast: Amitabh Bachchan, Amit Sadh, Jackie Shroff, Manoj Bajpayee, Yami Gautam, Ronit Roy, Supriya Pathak
Why director Ram Gopal Varma would make the third instalment in the Sarkar franchise after nine long years, is beyond one's comprehension. Tight close ups, ear-piercing background score, over the top treatment and typical low angle shots- Sarkar 3 has every imaginable Ram Gopal Varma trope.
Subhash Nagre aka Sarkar (Amitabh Bachchan) is living a peaceful life with ailing wife Pushpa (Supriya Pathak) after his two sons dies. Gokul (Ronit Roy) and Raman (Parag Tyagi) are earnest disciples of Sarkar. Their lives change upside down when Sarkar's grandson Shivaji Nagre aka Cheeku (Amit Sadh) comes to stay with them. He is a hot blooded man with strict principles and is in love with Annu (Yami Gautam). Deshpande (Manoj Bajpayee) and Michael (Jackie Shroff) plan to bribe Cheeku to kill his own grandfather (Sarkar). What happens next forms the rest of Sarkar 3.
Sarkar which released in 2005 was quite a brave attempt from the director but as the time passed by, the director lost the hold on the thrill of it. Back then, the film was compared with Godfather but the franchise fails to impress later. Sarkar 3 is the weakest of all three films so far. The plot of the film is sloppy and dysfunctional. The tagline says angrier than ever but the film is nothing but a yawn fest.
RGV has a certain style of shooting a film but it is annoying to see how he captures objects better than the characters in the frame. The faux scary dog on the dusty furniture, the laughing Buddha and Abhishek Bachchan's framed photo are the most entertaining parts of the film. The dim lit rooms are familiar thanks to the previous two films and tight close ups of Amitabh slurping tea from the saucer are funny to the core. The most hilarious part is that Sarkar 3 has nothing to do with the continuity of the last one.
Amitabh Bachchan shot Sarkar Raaj in 2008 so naturally he has aged in the third film. He surely leads this not so thrilling film with his captivating performance but he is losing his impeccable script sense. Rohini Hattangadi and Supriya Pathak are passable in their cameos.
Manoj Bajpayee is completely wasted in this political mishap of a film. Ronit Roy and Amit Sadh are good in their intense roles but Yami Gautam looks stoned throughout. She is just a pretty prop who is heart-stricken by her father's death. The funniest of all, however, surprisingly is Jackie Shroff, who tries to ape Don (SRK) in every possible manner and makes a fool out of himself. His dialogues are unintentionally funny and his constipated face in the climax will leave you in splits! Parag Tyagi and Bharat Dhabolkar are mere pushovers in the film.
Sarkar 3 is an avoidable affair this weekend. Make your and everyone else's weekend by getting RGV banned from making a highly plausible Sarkar 4.
Speard some love for Ebuzztoday.com (Like & Share)